Separate LCD display for every charging bay
Test function (capacity check)
Simultaneous charging/ discharging of recharge.
USB connection
At the AAA and AA batteries possible
Overheating protection, as well as function for automatic end of charge prevents overcharging
Charge various kind of cylindrical chargeable batteries, E-cigarette batteries.. flashlight batteries.
Supported batteries:
NiCd, Li-ion (26650, 22650, 18650, 17670, 18490, 17500, 18350, 16340(RCR123), 14500, 10440)
NiMH (AAA Micro, AA Mignon, AAAA Mini, C Baby)
Parameters
Box contents: charger included adaptor


Product Dimensions:

136 x 73 x 34 mm ; 145 g

Boxed-product Weight:

299 g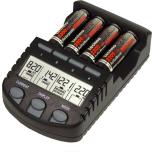 Charging current up to 700 mA. Charging, Discharging, Refresh and Test.


49,90 €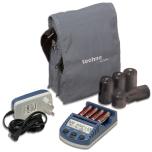 Charging current up to 1800 mA.
89,00 €