Skywatch® Eole is an anemometer with a 54 mm impeller who measure wind strength without worrying about his position. The Skywatch® Eole is energized by two replaceable AA batteries. The display is made up 99.9 at the 10th, then to the unit. The aluminium base with a thread allows its mount on a camera tripod.
Display:
Instant windspeed.
Maximum windspeed.
Average windspeed.
Technical specifications
Wind
Units
Resolution
Accuracy
Measuring range

km/h, mph, m/s, fps, knots and bft
at the 10th up to 99.9, then to the unit
± 3%
from 2 to 150 km/h
---
Others
Multidirectional impeller.
Protective cap for the impeller.
Backlight.
Unsinkable.
Minimum, average and maximum: 3s to 24h or chrono.
Aluminium bottom plate for fixing to a tripod (1/4″).
2 AA batteries.
Low battery indicator.
Operating temperature: -4 to 158°F.
Swiss official calibration.
Warranty: 1 year.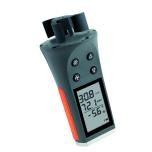 Instant, average and max windspeed.
Instant, avarage and max temperature.
Minumum temperature and wind chill factor.
SKU:
Meteos 1 ,
Delivery time:
1-2 week
84,00 €