Mobile-Alerts Thermo-Hygro Sensor
Expand your existing Mobile-Alerts Home Monitoring System with the MA10200 Temperature & Humidity Sensor. One TechnoLine Gateway can receive data from up to 50 individual sensors and push real time measurements to the Mobile-Alerts App on your Android or Apple phone.
Using the MA10200 sensor, create a home monitoring network either inside or out to measure and record temperature and humidity or explore some of our other Mobile-Alerts accessories to add Temperature only measurements, Air Quality, Rain and many more parameters.
Temperature measuring range: -39°C - +59°C

Temperature resolution: 0.1°C

Temperature accuracy: 1°C

Humidity measuring range: 20% - 99%

Humidity resolution: 1%

Humidity accuracy: 3%

Measuring interval: 7 minutes

Transmission range: 100m in open field

Frequency: 868Mhz

Power supply: 2 x AA Micro, 1.5v

Dimensions: 32 x 21 x 128mm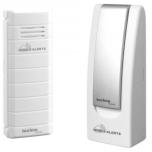 The perfect starter set for monitoring temperature in your home the MA10001 includes the new Mobile-Alerts Gateway and all important wireless temperature transmitter. On set-up simply use the cable provided to connect the Gateway to your home or office router; once connected temperature data is sent direct to your phone via the Mobile-Alerts App
54,00 €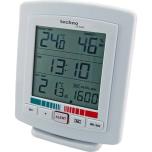 Product is not active.
Air Quality Monitor which measures indoor temperature, indoor humidity, indoor CO2 and have also one wireless temperature sensor for outdoor temperature.
59,00 €