Omegon Farsight binoculars - Modern technology in a classic design

Omegon Farsight are all-purpose binoculars. These brilliant all-rounders are excellent for almost any kind of observing, whether you love sweeping mountain panoramas or enjoy watching the wide open sea. They are available as 8x40s, 7x50s, 10x50s and 16x50s, so you are sure to be able to find the right binoculars for you. Even the higher magnification models are surprisingly easy to hold steady!

Impressive optics
Omegon Farsight binoculars show you your surroundings in superior sharpness and brilliance. Many binoculars have a noticeable loss of sharpness towards the edge of the field of view. Farsight binoculars however have excellent edge definition, meaning you can make optimal use of the entire field of view.
The binoculars' inner workings are equipped with multi-coated lenses and high-quality BAK4 prisms. You can make the most of the bright, low-reflection image these binoculars provide.
Comfortable observing
All Farsight binoculars are very comfortable to use, with even long observing sessions remaining enjoyable. The folded rubber eyecups are nice and soft against the eyes and provide good protection from stray light. More than 60% of people use spectacles (from a study on good eyesight), and so these binoculars have also been designed to be fully compatible with spectacle wearers. You can see the entire field of view with the 20mm (25mm for the 7x50s) eye relief provided; which is sufficient for all spectacle wearers!
Strong winds, lashing rain or the desert sun, it does not matter! Farsight binoculars are extremely robustly engineered, fully rubber-armoured and shockproof. You will immediately notice just how comfortably your new binoculars feel in your hands and what a good grip they provide.
The durability of this product is first class and they will remain in good condition even after many years of use. The housing iscompletely waterproof and is nitrogen-filled - a big advantage, which few binoculars of this design can offer.
You can focus on objects between a few meters and infinity by simply adjusting the central focusing wheel accordingly.
You will be highly impressed by these well thought-out binoculars which will provide you with many pleasant hours of observing.
The advantages in a nutshell:
- binoculars with excellent optical performance
- entirely compatible with spectacle wearers
- durable: shockproof and waterproof
- exceptional: nitrogen-filled porro-prism binoculars
- good edge definition
- case and shoulder strap
Specifications:
Capacity

Type of build
Porro prisms
Magnification
7
Front lens diameter (mm)
50
Exit pupil (mm)
7,1
Eye relief (mm)
25,0
Glass material
BaK-4
Lens coating
multiple
Focusing system
Central focusing
Eyepiece cups
folding

Special features

Zoom function
-
Eyepieces for spectacle wearers
yes
Image stabilizer
-
Compass
-
Rangefinder
-
Threaded tripod connector
-
Splash-proof
yes
Protection bag
yes
Watertight
yes

Field of view

True field of view (°)
5,5
Field of view at 1,000 m (m)
91
Close focus limit (m)
4,0
Light intensity
51,0
Twilight factor
18,7

General

Surface material
Rubber armouring
Length (mm)
182
Width (mm)
198
Height (mm)
65
Weight (g)
958
Series
Farsight
Colour
black

Area of application

Astronomy
-
Hiking
good
Bird watching
good
Hunting
middle
Travelling
good
Sport
middle
Sailing
middle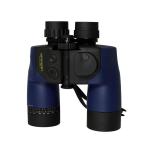 Omegon Seastar 7x50s are outstanding marine binoculars at an unbelievably low price. With other brands, you often pay over 50% more for almost identically constructed glasses.
189,00 €