Omegon Seastar 7x50s are outstanding marine binoculars at an unbelievably low price. With other brands, you often pay over 50% more for almost identically constructed glasses.
Seastar 7x50s are ideally suited to spotting small bays and cliffs or for observing birds in their search for food. They are built to withstand any and all nautical conditions. Not only are they nitrogen filled, to be 100% waterproof and anti-fogging, but alsohermetically sealed to prevent all moisture penetration.
The amazingly high light transmittance of the BaK4 porro prisms, the multi-coated optics and the large objective lenses all work towards providing a bright image, even at dawn or dusk. These binoculars will not sink and their rubber armour provides both protection and a very secure grip should it get rough. That is always very reassuring if you are surprised by a violent gust of wind or in heavy seas.
A built-in analogue compass helps with finding the direction, and can be read when looking through the binoculars.
Seastar series features:
BaK 4 porro prisms for a bright, clear and sharp image
multi-coated for maximum light transmittance and brightness
robust, 100 % waterproof design
compass for finding orientation and reticule for finding range
O-ring sealed and nitrogen-filled, preventing any moisture penetration
non-slip rubber armour to protect against heavy bangs and knocks; to prevent accidental slipping out of the fingers, especially when wet
case and shoulder strap included
Specifications:
Capacity

Type of build
Porro prisms
Magnification
7
Front lens diameter (mm)
50
Exit pupil (mm)
7,1
Eye relief (mm)
24,0
Diopter compensation
+/- 3,5
Glass material
BaK-4
Lens coating
fully, multiple
Focusing system
Central focusing (Central wheel)
Eyepiece cups
folding

Special features

Zoom function
-
Image stabilizer
-
Threaded tripod connector
-
Splash-proof
yes
Protection bag
yes
Eyepieces for spectacle wearers
yes
Compass
yes
Watertight
yes

Field of view

Field of view at 1,000 m (m)
116
True field of view (°)
7,3
Close focus limit (m)
12,0
Apparent field of view (°)
-
Light intensity
51,0
Twilight factor
18,7

General

Colour
blue-black
Weight (g)
1200
Series
Seastar
Surface material
Rubber armouring

Area of application

Astronomy
middle
Hiking
middle
Bird watching
-
Hunting
middle
Travelling
middle
Sport
middle
Sailing
very good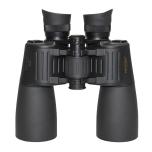 Omegon Farsight are all-purpose binoculars. These brilliant all-rounder is excellent for almost any kind of observing, whether you love sweeping mountain panoramas or enjoy watching the wide open sea.
SKU:
21359 ,
Delivery time:
1-2 weeks
109,00 €