The PoolMateHR has been specially designed for swimmers so it will sense heart rate when in the pool. View your heart rate on the watch during your swim and download afterwards for further analysis. You can also use it as a heart rate monitor out of the pool for other activities.
Automatic lap and stroke counting for each lap- The PoolMateHR has all our swim monitoring functions including laps, strokes, speed, distance, calories, stroke length, strokes per minute and efficiency which are automatically calculated from your arm movements. In addition to the set by set information shown by the PoolMate and PoolMatePro, the PoolMateHR downloads data for each individual lap you swim.
Vibrating alarm- Our unique vibrating alarm alerts you when you have swam a certain number of laps, distance or time interval- a really great innovation to keep track in the pool.
Tough but stylish- The PoolMateHR has a sleek but tough design with sapphire crystal glass and a ceramic bezel so it stands up to the hardest swim session and is suitable for everyday wear too.
Downloadable and rechargeable- The PoolMateHR comes with it's own USB pod which charges the watch and downloads the data to your computer. The battery should last a few weeks with normal use so wont need charging too often.
* the majority of modern heart rate monitors operate at 2.4GHz which does not penetrate water so they will not show heart rate in the pool. The PoolMateHR works at a lower frequency which will transmit in water.
| In the Pool | Out of the Pool | On your computer |
| --- | --- | --- |
| Automatic lap and stroke counting | Chrono mode | Software for Mac and PC |
| Distance, Speed | Heart rate (chest belt) | Set by set data |
| Calories, Efficiency | Multisession memory | Lap by lap data |
| Heart rate (chest belt) | Large clear display and backlight | Graphical analysis |
| Vibrating alarm | Rechargeable (battery life a few weeks) | Track progress and history |
| All strokes and pools over over 18m | 24 hour clock and alarm | Stroke length, stroke cadence |
| Yards and metres | Sapphire crystal glass and ceramic surround | Heart rate zones |
Spec
Battery life around 30 days, charging time < 2 hours
Weight 67g
Diameter of face 48mm
Strap fits wrists from 14.5 to 21.5cm
12 month guarantee
Included: PoolMateHR watch, USB download and charging pod, USB cable, Chest belt, Software download from swimovate.com/downloads/
Vibrating alarm
The vibrating alarm is such a useful tool and we think it's one of the key features. There are several ways to use it.
1, Set it to go off every 10 laps (or any multiple of laps you like) and it will gently shake the watch so you can feel the buzz on your arm so you don't need to look at your watch to see how many laps you have swam.
2, Set it to go off every 100m (or any distance interval) so you can feel the buzz each time you have completed this distance.
3, Set it to go off after 30 minutes (or any long time interval) so it will alert you when you have swam for your allotted time (you can also use it in chrono mode this way when doing other activities).4, Imagine you want to swim at a pace of 90 seconds per 100m. Set the vibrate alarm to go off every 90 seconds (or any short time interval) and feel the buzz each 100m. This is a great way to keep your pace correct in a longer set. If you feel the buzz exactly at the 100m turn you know you are on track (you can use this in chrono mode too of course).
Software
Add notes or edit data
Select any session and examine in detail including individual laps and sets within the swim
Graphical analysis of your stroke count, times, speed etc see how they have changed over time.
See how far you have swum this month or year.
View your fastest times, best stroke count etc. at a glance.
Filter your swim by stroke type
Reports
Save as .csv, .tcx (for import into other tracking applications) and export to swim.com
Club mode to view multiple swimmers on one machine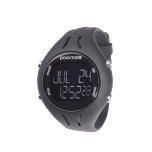 Not only does it give you speed and distance in the pool like all our watches, it does it in open water too!
95,00 €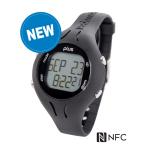 Sync swim data to your Android device, PC or Mac
SKU:
PoolMatePlus ,
Delivery time:
December 2016
110,00 €