The PoolMatePlus contains a novel use of NFC technology to sync swim data to Android phone or tablet by briefly holding the watch to the device, no pairing needed.
Whether you swim in pools or open water, the PoolMatePlus will track and download your swims.
Don't have an Android phone, no worries, the PoolMatePlus comes with a download pod to plug into your PC or Mac to download your swim data to your computer.
With a 2 year battery life, large clear display and connectable, it's a super swim tool.
In the pool
laps
strokes
distance
speed
efficiency
duration sets
rest time
calories
In open water
strokes
distance
speed
efficiency
duration
sets
rest time
calories
Out of the water
99 set chrono mode for timing


Works with all major strokes straight out of the box
Stores over 50 sessions for recall, records individual sets and total session data
Swim pedometer mode for open water swimming (calibration recommended prior to use)
Pools over 18m (yards too), Chrono mode for timing other sports
Water resistant to 50m, 24 hour clock and alarm
After swimming
The PoolMatePlus connects to an Android phone or tablet (by NFC), just install our app and make sure NFC is enabled on your device.
If you don't have an Android device you can download data to a PC or Mac by the USB pod that is included.
(Apple have not opened up NFC to developers, when they do, we will release an app but until then it's just for Android)
What is NFC?
NFC (aka Near Field Communications) is already used for contactless payment systems and is included in the vast majority of smartphones. As well as payment details, NFC can be used to transfer other data. Swimovate have developed an Android app that will receive and display swim data by simply holding the watch to the NFC area on your phone for an instant.
No need to worry about pairing the watch to your phone like Bluetooth, NFC does not require pairing.
The Android app will be available from Google Play and Swimovate website when the watch ships.
(Apple only allow use of NFC for Apple Pay and haven't opened it up to the development community yet, as soon as they do Swimovate plan to develop an iphone app.)
How do I know if my Android smartphone has NFC?
It's very simple. Just open Settings > More and see if there's an NFC option hiding there. Most smartphones that have NFC place a small NFC logo on their rear panels, too.
Or look up here http://www.nfcworld.com/nfc-phones-list/
Open water
A simple calibration lap is all that's required to set up the special open water mode, which uses the in- built accelerometer to work out the swim metrics. Using this method rather than GPS, which takes a lot of power and has difficulties operating in water, means the PoolMatePlus has a battery life of over 2 years!
How do we do it?
The open water mode is a swim pedometer. Swim a lap of a known distance first and follow the calibration instructions then the watch will use this information for subsequent open water swims. Recalibrate regularly for best results.
Spec
Android: Syncs swim data by NFC, no pairing required.
PC or Mac: Syncs swim data by InfraRed transfer via USB pod.
Battery life around 24 months CR2032
Weight 41g
Diameter of face 40mm
Strap fits wrists from 14.5 to 21.5cm
12 month guarantee
Contents: PoolMatePlus watch, USB pod, cable and user manual
Software
Download data from the PoolMate watch or add swims manually
Filter your swim by stroke type
Add notes or edit data
Select any session and examine in detail including individual sets within the swim (if you want to view the data for each lap you will need the PoolMateHR)
Graphical analysis of your stroke count, times, speed etc see how they have changed over time
See how far you have swum this week or year
Multiple swimmer support
View your fastest times, best stroke count etc. at a glance
Save as .csv file
Club mode to view multiple swimmers on one machine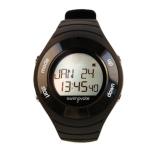 Heart rate and lap counting, this is the ultimate tool for the swimmer who wants the best.
SKU:
PoolMate HR ,
Delivery time:
1-2 weeks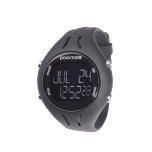 Not only does it give you speed and distance in the pool like all our watches, it does it in open water too!
95,00 €